Shop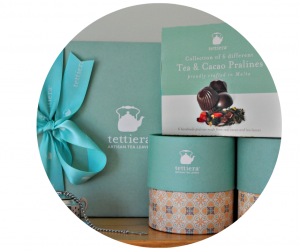 Kaxxa te' magħmul bil-ħarrub u fidloqqom ta' Malta kif ukoll ċikkulata fina!
Explore the unique taste of Tgħanniqa, (a hug) a Celyon black tea blended with Maltese carob, a local tisane made from 100% Maltese borage called il-Bewsa tal-Fidloqqom ( Borage's kiss). To seal off these rare and pleasant teas, enjoy our collection of 6 locally made tea & cacao pralines – a sin-free combination of tea leaves with raw cacao. A teapot infuser is included to make your cup of tea a bit more stylish.
Proudly crafted in Malta – enjoy it's colourful flavours!