Shop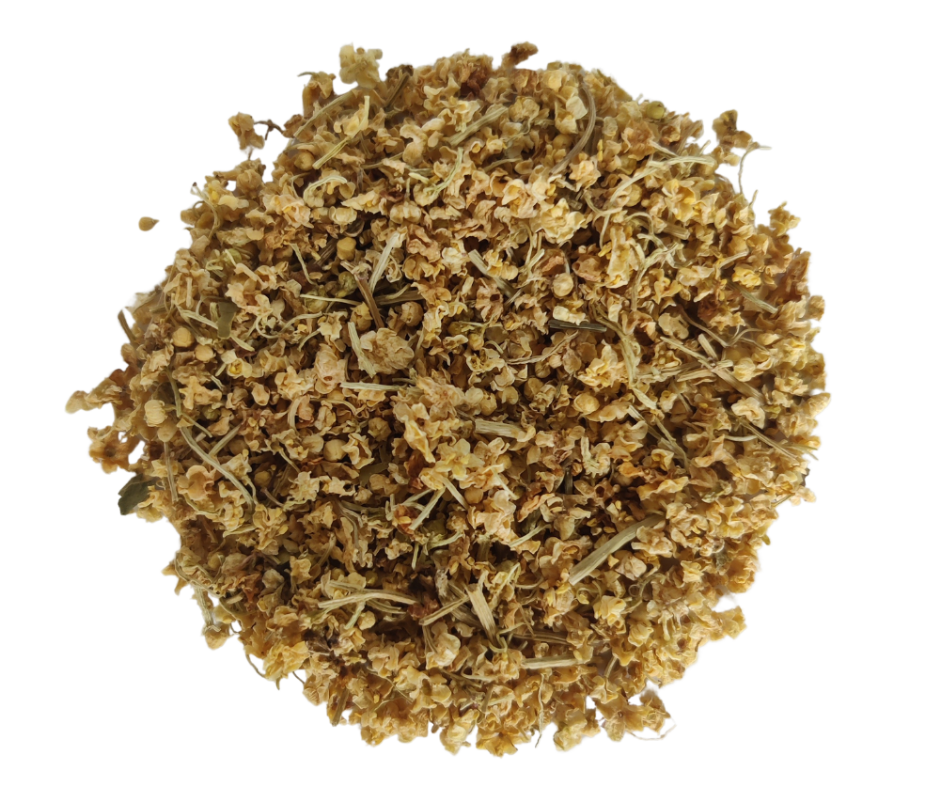 Ingredients: 100% Elderflower, rubbed
Origin: Kosovo
Elderflowers, typically found in British countryside, are clusters of cream-coloured blossoms growing on elderberry trees. These flowers have a delicate flavour and a distinctive creamy and floral smell.
The use of elderflowers dates back centuries. In 400 BCE, Hippocrates referred to the elder tree as his "medicine chest." In Roman times, the roots were ground into an ointment for rubbing on ailments. In traditional Chinese medicine, it's believed that elder dissolved in wine aided in the treatment of rheumatism.
Elderflowers are a natural source of vitamin C, antioxidants and bioflavonoids and for this reason have traditionally been used in the treatment of sinusitis, allergies, colds, influenza (flu), swine flu and bronchitis. Making a delicious elderflower tea can help alleviate some of the aforementioned conditions by stimulating the immune system and increasing the activity of antioxidant enzymes in the blood. Elderflowers have also been associated with the prevention of diabetes, constipation, found to increase urine production (as a diuretic) and increase sweating (as a diaphoretic), and stop bleeding. Elderflower is also used as a gargle and mouthwash for coughs, colds, hoarseness (laryngitis) and shortness of breath. It is sometimes applied on the skin to minimise the inflammation arising from rheumatism.
In culinary terms, the use of elderflowers is varied. The flowers are most commonly used to flavour syrups for cordials. They are also used as an infusion in the flavouring of jellies, ice creams and pannacottas or mixed directly into cakes, tarts and trifles, pairing particularly well with fruit tarts such as rhubarb and gooseberries. The flowers themselves are edible too – they make a delicate and beautiful garnish on their own, or alternatively, the whole head of elderflowers can be deep-fried in batter and dusted in icing sugar to make a crispy garnish or snack. Elderflowers can also be eaten straight from the bush – the pollen that collects on them is sweet, while the flowers themselves are tart like grape skin. Elderflower, however, is particularly safe when included in food, because it contains a cyanide-producing chemical which can cause nausea, vomiting, and diarrhoea, and which is only removed by means of cooking. In manufacturing, elderflower extracts are used in perfumes, eye and skin lotions.
Elderflower works best with a light flavoured tea (green or white), or can be drunk as a herbal infusion enjoyed hot or iced.
Disclaimer:  Taking elderflower along with diabetes medications might cause your blood sugar to drop too low since it is associated with the decrease in blood sugar levels. There is not enough reliable information about the safety of taking elderflower if you are pregnant or breast-feeding. Please consult your healthcare professional prior to its consumption.